Urban environments increasingly face the challenges of rapidly growing populations and are at times confronted with a sudden need for short-term, cost-efficient housing due to diverse factors in different parts of the world: e.g., increasing and unpredictable severity of natural disasters resulting in large numbers of displaced people; an increase in the number of climate refugees; spontaneous migration due to insecure political situations, terror and war; the financial inability (particularly of developing countries) to provide sufficient infrastructure immediately in pace with rapid population growth; relevance of cities within national migration triggered for example by educational or job opportunities (UN-Habitat 2016). Furthermore, the number of people with an urgent (temporary) housing demand, in a phase of transition or disaffiliation due to a disruption in their biography, increases.
Thus, the need to find innovative, low-cost and flexible but sustainable and reusable housing concepts that are easy to construct and rapid to implement is evident. Beside these technical aspects, temporary housing includes also the process by which humans can recover and re-integrate (Johnson 2007), and may experiment with new forms of living and eventually come up with innovative solutions.
In this respect, this research project focuses on an inter- and trans-disciplinary scientific approach to systematically investigate and evaluate existing temporary housing options, and to create and assess comprehensive, innovative and sustainable models for pop-up housing systems in urban environments that may serve as incubators for urban innovation. Urban and landscape planning, architecture and building systems technologies are merged with resource-related disciplines such as energy optimization, sustainable resource and waste management, water supply and wastewater treatment as well as social and political sciences.
The project addresses diverse spheres within the urban context. The focus is particularly on the three "elements" indicated in the figure below, namely PEOPLE (needs, skills, culture, accessibility, background), HOUSING (design, material and resource use, energy, waste, water) and AREA (infrastructure, housing-related green spaces, soil and water), which are interrelated and again have specific impacts on urban environmental systems.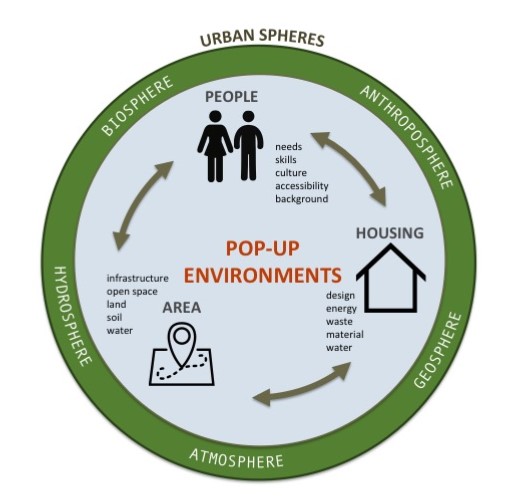 Within the context of this project a "pop-up housing environment" is defined as a temporary residence for different target groups (to be selected within this project):
pop-up housing: non-permanent reusable physical shelter
temporary: ranging from several weeks to 5 years (in exceptional cases max. 10 years)
target group: in general, people with an urgent housing demand, in a phase of transition or
disaffiliation (disruption in biography due to diverse reasons)
local innovation system: space where innovative forms of living, collaboration and learning, as well as technical, infrastructural and resource orientated innovation can occur
Scenarios based on selected framework conditions and subsequent pop-up housing models are developed for diverse (un-used) urban spaces, focusing on Vienna in particular. Considering a circular economy approach, temporary living spaces will be conceptualized with nearly 100% renewable and/or recyclable resources. At the end of their life cycle, their components and materials shall be reused, re-manufactured or recycled. A modular design will ensure the easy adaption, expansion and dismantling. All elements should be removed with minimum damage, retaining their value.
From a social perspective, the proposed pop-up housing models aim to integrate two different issues: to provide urgently needed temporary living space and at the same time to create micro niches of innovation that allow for experimenting with new forms of urban living. This element of the concept builds on approaches to strategically manage innovation as developed especially in the context of constructive technology assessments (CTA)
Please follow the link to find out more.
Please follow the link to find out more.
Please follow the link to find out more.
Literature:
Johnson, C., (2007). Strategic planning for post-disaster temporary housing. Disasters 31(4),
435-458.
UN-Habitat, (2016). Urbanization and Development: Emerging Futures – World Cities Report
2016. Nairobi: UN-Habitat.